On the Floor or Ceiling
"Menhir 02" is referring back to its ancestor, the rough, unfinished over-sized rock, therefore the materiality is very important as part of the design. "Menhir 02" is carved out of solid blocks of marble using cutting-edge technologies of modeling and fabricating. The two different treatments on the two sides, create this contradictions between rough and smooth, friendly and unfriendly. The back of the object has is highly textured with a linear surface treatment that appears as rough and unfinished, while the inside is smooth and without texture, so the veins of the marble block are visible.
On the Floor or Ceiling – 2021 Runner-Up
Menhir 02
Arsenios Zachariadis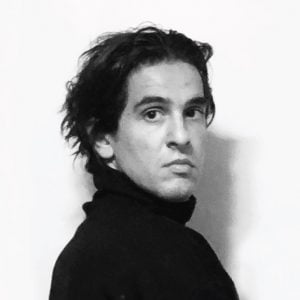 Arsenios Zachariadis is a designer with local and international experience. Arsenios joined HansonLA in 2017 and has worked on various projects in the Los Angeles area ranging from mixed-use development, residential building, interior design and smaller scale product and furniture design. Arsenios's work focuses on creativity drawn through interdisciplinary design. He is curious about new technologies and how they can be incorporated in the design process. Prior to Hansonla, Arsenios worked for MAD architects in Beijing, China and the research studio Testa&Weiser in Venice, California. His work has been exhibited internationally, including commissions from Shezhen Biennale, China and Royal Academy of Arts, London.