Bigger Than A Model, Smaller Than A Street
Bigger Than A Model, Smaller Than A Street
The owners of Electric Avenue invited Social Studies Projects (SSP) to design a freestanding pavilion to be used as both a waiting room for clients and a lunchroom for mechanics. Taking inspiration from greenhouse structures, SSP designed a simple red steel framework, clad in twin-wall polycarbonate panels to keep the interior bright, while gently obscuring the surrounding parking lot from view.
Bigger Than A Model, Smaller Than A Street – 2021 Runner-Up
The Red Shed
Mary Casper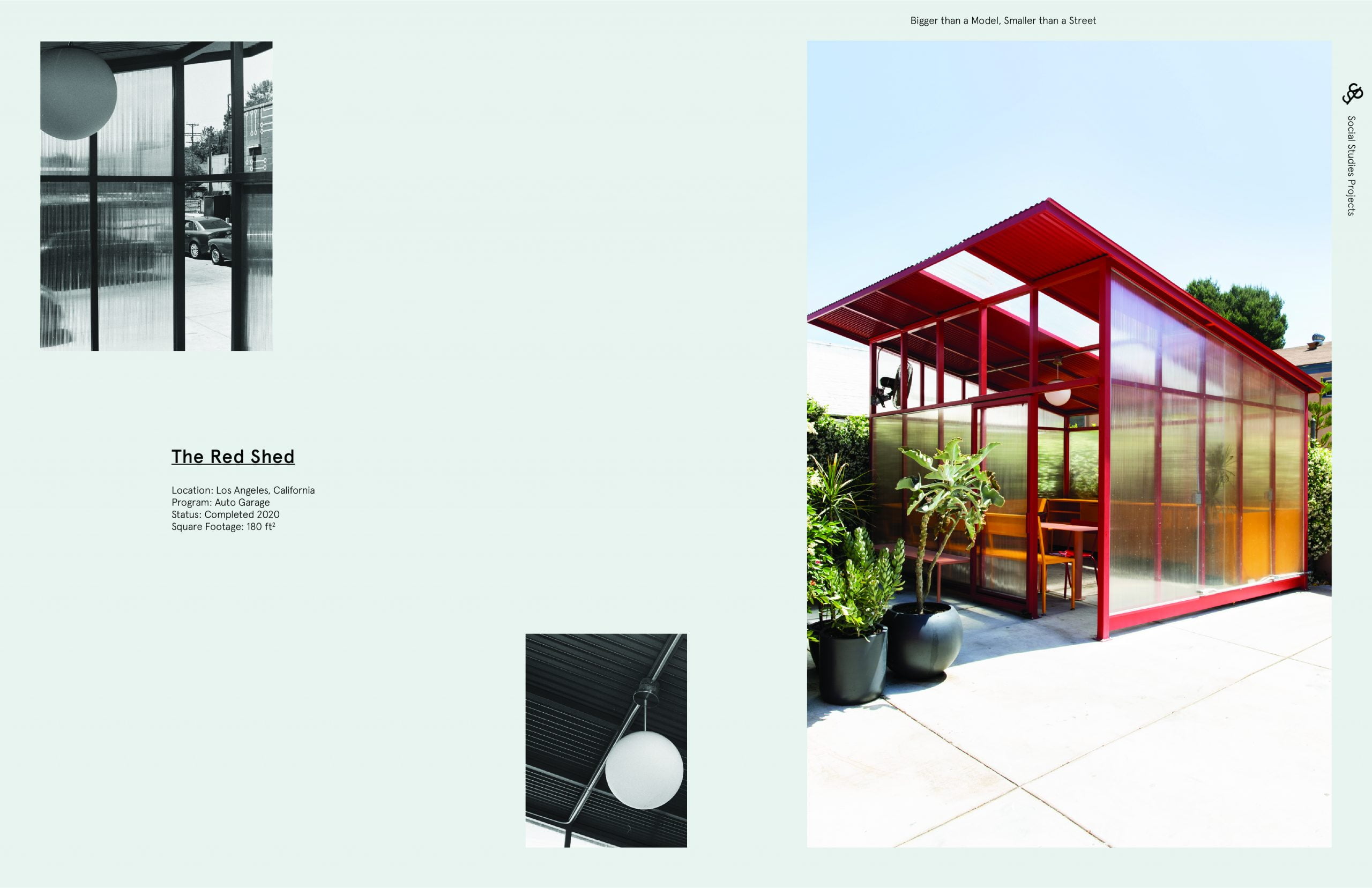 Mary Casper, Creative Director:
Mary received her M.Arch from Rice University and a B.A. in Sociology from Vassar College. Mary has worked as a Lead Designer and Project Manager for numerous award-winning offices, including Johnston Marklee, WW Architecture, and Interloop Architecture. She also served as Director of Architecture for The Archers.
Mary is currently on faculty at the Harvard GSD and the USC School of Architecture and has served as a visiting critic at University of Michigan, University of Kentucky, CalPoly Pomona, Woodbury University, UCLA, and Sci-Arc. She co-edited Plat Journal 2.5 and 3.0 with Chimaobi Izeogu and The Petropolis of Tomorrow with Neeraj Bhatia, published by Actar in 2013.

Kay Mashiach, Project Designer:
Kay is a Los Angeles-based designer and photographer. She received her B.Arch from University of Southern California and has worked previously with Hawkins Brown, Moore Ruble Yudell, and Woods + Dangaran before joining Social Studies Projects, where she provides stellar project support and specializes in project representation.
Christina Rodriguez, Project Designer:
Christina received her B.S. in Architecture from University of Illinois – Chicago and her M.Arch from UCLA, where she was content editor for the student-run publication POOL Magazine. She has previously worked as a collaborator with the Los Angeles-based offices The LADG and Vertebrae, and as a designer with Product Architecture + Design in Chicago. She has also worked as an exhibition design assistant at the Fowler Museum at UCLA, and has an interest in curation and its architectural implications.
Maria Sviridova, Project Architect:
Maria received her M.Arch from UCLA and B.S. in Architecture from the University of Michigan. Maria is a licensed architect in California and Michigan with over 8 years of experience, most recently as a Project Architect at NBBJ's Los Angeles office. Prior to that she worked as an architect at SOM Los Angeles. She is currently a lecturer at Cal Poly Pomona teaching Construction and Studio Courses. She dabbles in ceramics in her spare time.