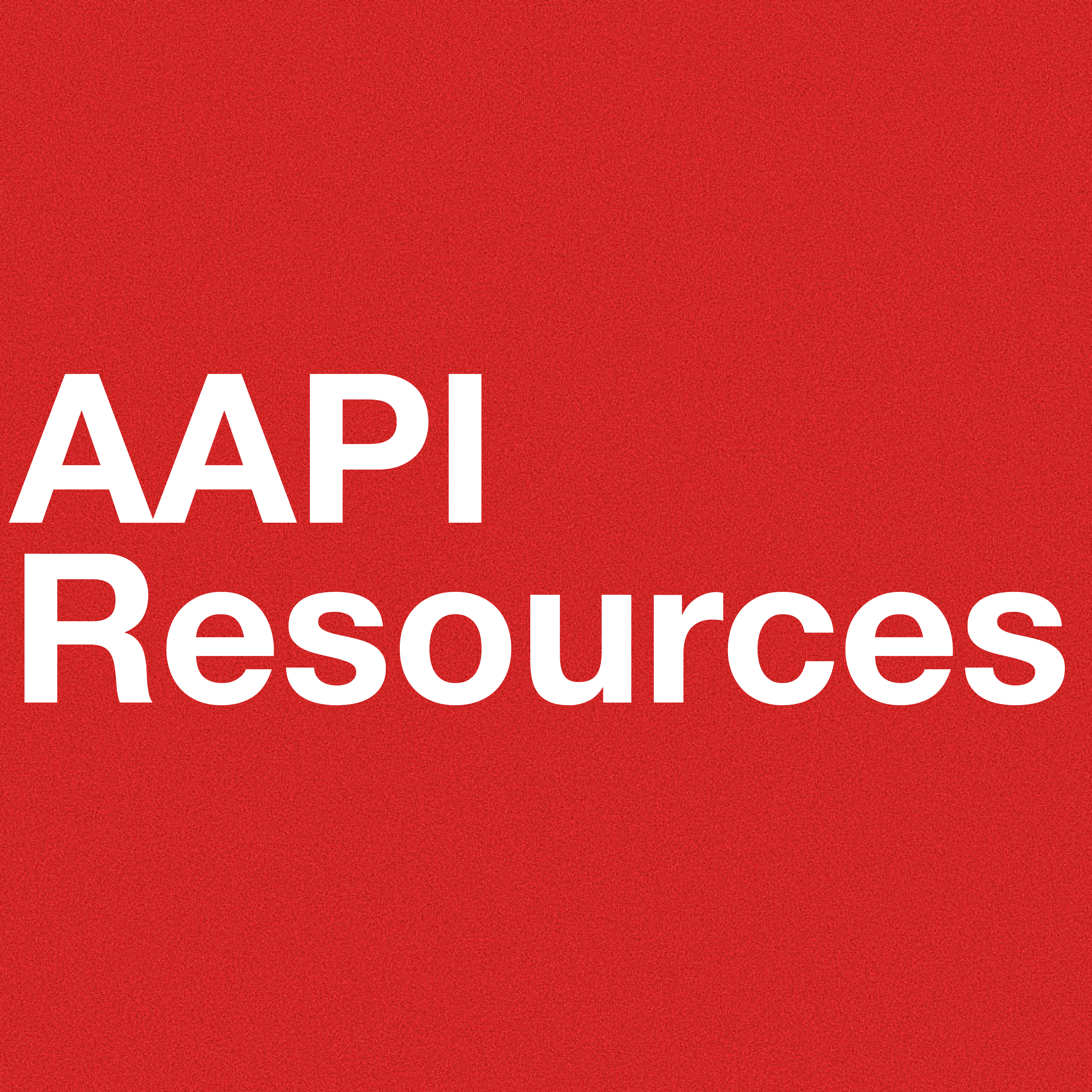 We respectfully acknowledge the victims of the Atlanta-Area Shootings
Delaina Ashley Yaun Gonzalez, Paul Andre Michels, Xiaojie Tan, Daoyou Feng, Hyun Jung Grant, Suncha Kim
Soon Chung Park, Yong Ae Yue, Elcias Hernandez-Ortiz. As well as all of the families that have been affected by AAPI hate crimes.
Actions
Educate yourself about the
Model Minority Myth
Enroll in
Bystander Intervention Training
Start a conversation with your friends and family
Stay up to date and follow AAPI Activists such as
NextShark
Support brands that support the AAPI Community:
Support restaurants that support the AAPI Community
Interactive Learning Spaces

Chinese American Museum
Japanese American National Museum
Studio ATAO
USC Pacific Asia Museum
Support AAPI-owned Bookstores
We kindly request that you consider where you are purchasing books from. While some larger sellers may make this easier you may be contributing to the unjust treatment of BIPOC by supporting these corporations. We are providing a list of some booksellers to consider below:
bookshop.org/shop/aacp
www.asianamericanbooks.com
pacificasiamuseum.usc.edu
philippinebookshop.com
orphanbooksinc.com
agoodusedbook.com
www.arkipelagobooks.com
belcantobooks.net
www.asiabookcenter.com
www.giantrobot.com
janmstore.com
nowservingla.com
Books
All You Can Ever Know
by Nicole Chung
American Born Chinese
by Gene Luen Yang
It Began with a Page: How Gyo Fujikawa Drew the Way
by Kyo Maclear and Julie Morstad
Minor Feelings: An Asian American Reckoning
by Cathy Park Hong
Native Speaker
by Chang-Rae Lee
NY Times Article :
What This Wave of Anti-Asian Violence Reveals About America
Pachinko
by Min Jin Lee
Pioneer Girl
by Bich Minh Nguyen
The Making of Asian America: A History
by Erika Lee
Yellow Peril!
edited by John Kuo Wei Tchen and Dylan Yeats
Podcasts
Acting Asian
AsianBossGirl

Asian Enough
Asian GLOW
Self Evident
Film
Asian Americans on PBS
Asian American Stories in the Time of Coronavirus
Call Her Ganda
Maya Lin: A Strong Clear Vision
Minding the Gap

Wong Fu Productions
Organizations to Support
AAPI Women Lead
(CA)
"AAPI Women Lead and #ImReady Movement aims to strengthen the progressive political and social platforms of Asian and Pacific Islander communities in the US through the leadership of self-identified AAPI women and girls. Our goal is to challenge and help end the intersections of violence against and within our communities. We do this work in solidarity with other communities of color."
Advancing Justice ALC
(CA)
"The mission of Asian Americans Advancing Justice – Asian Law Caucus is to promote, advance, and represent the legal and civil rights of API communities. Recognizing that social, economic, political and racial inequalities continue to exist in the United States, Advancing Justice – Asian Law Caucus is committed to the pursuit of equality and justice for all sectors of our society with a specific focus directed toward addressing the needs of low-income, immigrant, and underserved APIs."
Asian American Girl Club
"Asian American Girl Club
is an apparel company set to redefine what it means to be a modern Asian American woman. Whether it be through flooding your timeline with powerful images of rad women, creating content -from interviews to skincare to straight up real talk, or designing goodies with you specifically in mind, we're dedicated to the normalization of the next generation of AAPI gals and boss babes. To give voice and celebrate."
Asian American Senior Citizens Service Center
"AASCSC is dedicated to increasing the awareness of the needs of the Asian American elderly, assisting their access to essential health care and social services, and promoting a dignified living in the community. AASCSC is a leading service and advocacy organization entrusted to serve, protect, and celebrate senior citizens. We are determined to help Asian Pacific Americans (APA) lead independent, meaningful, and dignified lives by building a stronger and healthier community thorough direct services, policy advocacy, and capacity building."
Asian Mental Health Collective
The Asian Mental Health Collective aims to normalize and de-stigmatize mental health within the Asian community. They aspire to make mental health easily available, approachable, and accessible to Asian communities worldwide.
Center for Asian Americans United for Self Empowerment
(CA)
"Center for Asian Americans United for Self Empowerment (CAUSE) is a 501(c)(3) nonprofit, nonpartisan, community-based organization with a mission to advance the political and civic empowerment of the Asian Pacific American (APA) community through nonpartisan voter outreach, training, and education as well as leadership development."
Chinatown Service Center
"Established in 1971, Chinatown Service Center is one of the largest community-based Chinese-American health and human service organization in Southern California. CSC provides a comprehensive range of services to over 100,000 visits annually, organized under four services areas including Social Services (Senior Services, Welfare and Benefits Enrollments and Referral Programs), Federally Qualified Community Health Center (Behavioral Health, Medical, Dental and Optometry), Youth Center and Community Economic Development (Individual Financial Education and Small Business Training and Consultation). Services are available in a variety of Chinese dialects, including, Cantonese, Mandarin, Toishan, Chiu Jou, as well as other languages, such as Vietnamese, and Spanish."
Compassion in SGV
(CA)
"We are a volunteer organization created to support and protect our San Gabriel Valley, CA communities. You can request a chaperone or be a volunteer to help keep our fellow community members safe."
Dear Asian Youth
"We are a group of Asian youths striving to uplift marginalized communities through education, activism, and celebration. Dear Asian Youth was founded in May of 2020 by Stephanie Hu, a 16-year-old who wished to create a platform to publish her poetry. It evolved into a blog dedicated to the Asian narrative, then a literary magazine, then a full-fledged organization with over 100 members on the national team. Functioning remotely, the organization today is the result of passionate volunteers with a shared purpose."
Gold House
"Gold House is the premier nonprofit collective of Asian founders, creative voices, and leaders dedicated to unifying the world's largest populace–Asians and Pacific Islanders–to enable more authentic multicultural representation and societal equity."
Red Canary Song
"We are the only grassroots Chinese massage parlor worker coalition in the U.S. There are over 9000 workplaces like these across the country with no political representation, or access to labor rights or collective organizing. Anti-trafficking NGO's that claim to speak for migrants in sex trades promote increased policing and immigration control, which harms rather than helps migrant sex workers. We also organize transnationally with Asian sex workers across the diaspora in Toronto, Paris, and Hong Kong."
Stop AAPI Hate
"In response to the alarming escalation in xenophobia and bigotry resulting from the COVID-19 pandemic, the Asian Pacific Planning and Policy Council (A3PCON), Chinese for Affirmative Action (CAA), and the Asian American Studies Department of San Francisco State University launched the Stop AAPI Hate reporting center on March 19, 2020. The center tracks and responds to incidents of hate, violence, harassment, discrimination, shunning, and child bullying against Asian Americans and Pacific Islanders in the United States."