The View from Here
by A+D Museum
Launched 8.22.20
Video Series
The View From Here
is a series of conversations with Black American designers and artists focused on exploring how the environment of Black neighborhoods impacted the work of the creatives over time. Our partnership on Unearthing the Black Aesthetic opened the conversation to understanding how our built environment effects our sense of aesthetics and creative output. Here we use our platform to promote discussion with Black artists willing to partake in the discussion and share their personal experience with us. We hope to add to the conversation by showing the multiplicity of what is blanketed as the black experience. It is the hope that this can also spark conversation around topics like gentrification and identity in the built environment.
Featuring:
Renee Rutherford, Duane Gordon, Patrick Dougher, Robert Clarke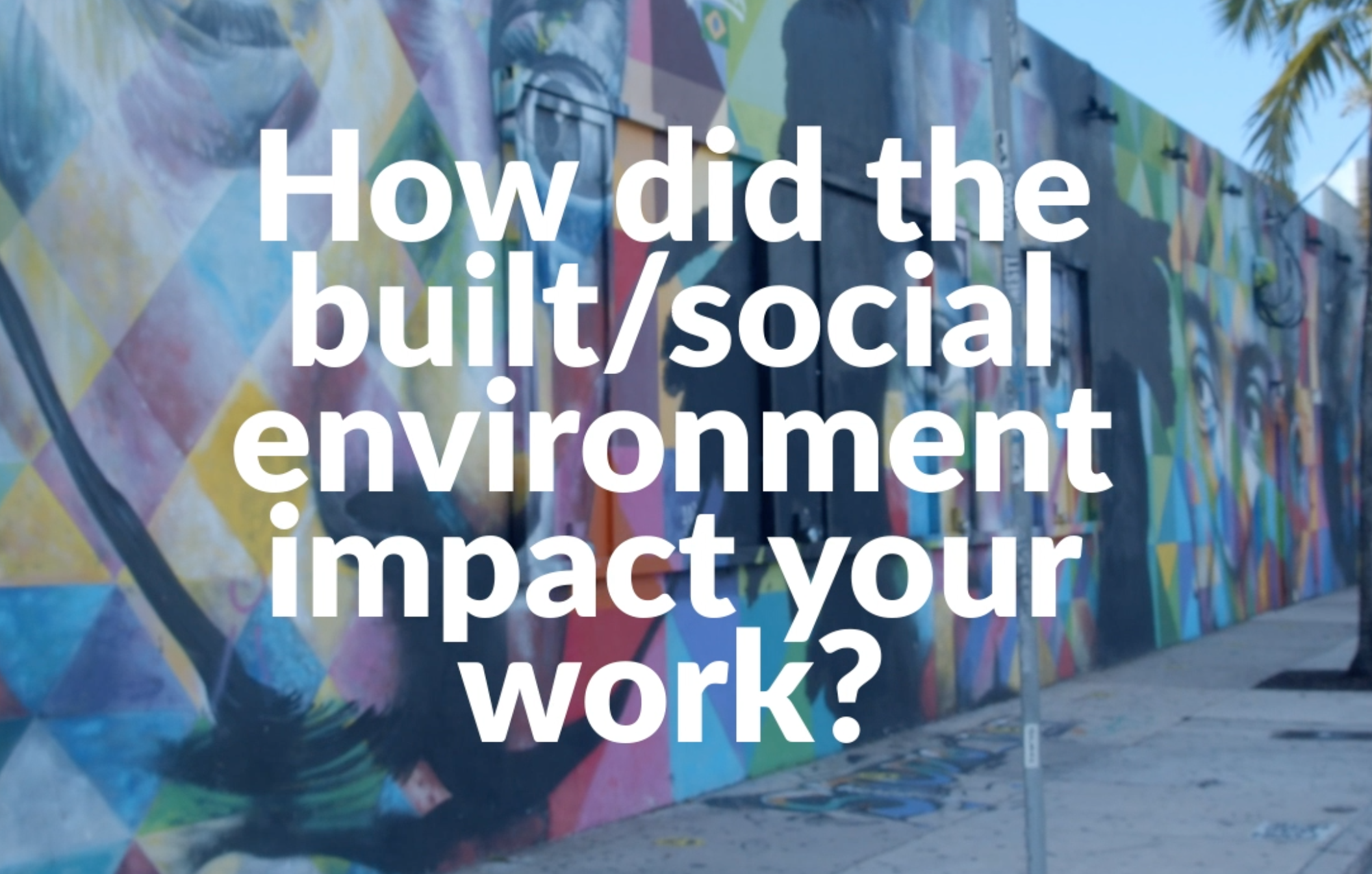 RAlx was founded in 2020 by designer Robert-Alexander. Before founding RAlx he worked for various international design firms such as Terreform ONE, Gensler, and Archi-Union. These experiences have transformed previously established notions about the function and existence of contemporary architecture. His work critiques the current systems and the aesthetics of the mainstream Avant Garde. Thus giving alternatives to white box architecture, or the overly stylized computational logics of form based architecture.
Patrick has played and recorded with Grammy award winners Sade, Chuck D (Public Enemy), and Dan Zanes as well as many other notables. He is the drummer on "Dub Side as the Moon" one of the best selling Reggae LP's of all time.
He has worked as a Teaching Artist in NYC public schools, as an Art Therapist working with HIV positive children, and as the Director of community arts organizations. For over 20 years Patrick has used the arts to empower and support the socio-emotional growth and health of "at-risk" and disenfranchised youth of the city.
Through his art, Patrick seeks to inspire and to celebrate the noble beauty and divine nature of people of African descent and to connect urban African American culture to its roots in sacred African art, spirituality, and ritual.
See more of his work
here
.
Duane Gordon Jr is a self-taught artist, designer, and entrepreneur.
Duane is a Philadelphia native that studied business management and entrepreneurship at The Lincoln University and graduated with a Bachelor's Degree of Science in 2014.
While at Lincoln, Duane founded the lifestyle brand Handwritten Culture which has a focus on the culture of creativity. Duane started his full-time journey in entrepreneurship in 2015, through a Real Estate company, and through various art forms, which helped him co-founded a platform for artist and creatives around the city called BYou Society.
Duane looks to thrive continuously within his art career while creating a household name with his
Originally Distinct
works.
Renee Rutherford, is a self-taught Jamaican – American artist. Growing up Renee was heavily inspired and involved with music and art as her father exposed her to the Caribbean art & culture scene as a vendor at multiple events such as Bob Marley festival, Best of the Best and Miami Carnival just to name a few. As a child Renee participated in school and community talent shows where she showcased her performance skills. Later, focusing on her visual artistic skills such as photography, drawing and painting, a talent that her mother, brother and a few other family members possess. Her painting styles are heavily inspired by music and emotion.
During Miami Art Basel 2018 weekend Renee was awarded with the First Runner up award for MIA Magazine cover contest for Art of Black Miami. Rutherford was also a featured exhibiting artist during Miami Art Basel 2018 weekend at the Little Haiti Cultural Complex with MUCE305, an Ode to Hip Hop exhibit, where she showcased 8 pieces. Pieces include a graffiti style collage tribute to the late Aretha Franklin, an Erykah Badu piece titled 4 Leaf Clover, a Basquiat x Supreme piece, and a conversation piece of Kanye West highlighting his recent comments on slavery.
Since Miami Art Basel, Renee has participated in multiple art showcases & exhibitions and is currently the art curator for Speak Ez, a monthly showcase for visual and performing artists, located in Fort Lauderdale, FL.
Set to inspire and encourage others, her message is and will always be that "PROGRESS IS POSSIBLE" and you should always follow your dreams no matter what. You never know where it may take you. Works and information on Renee can be found at
www.RFORDTHEARTIST.com